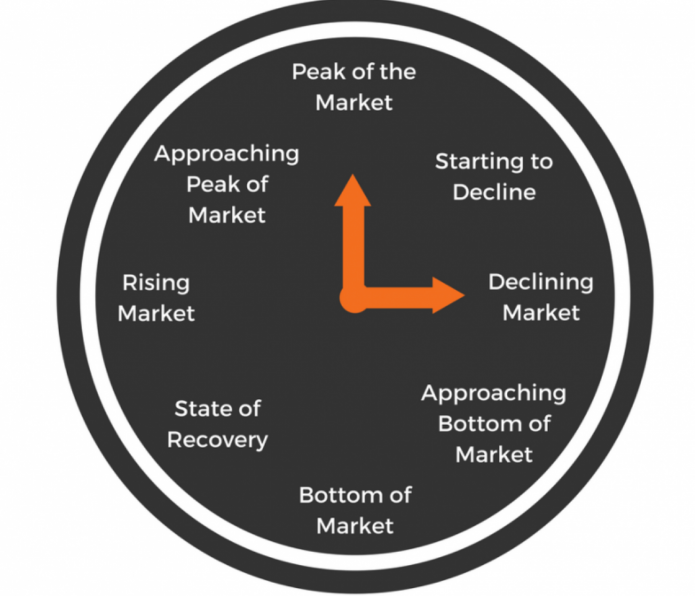 When is the best time to invest? 
This is the question new investors always contemplate over, sometimes so much that they convince themselves to not invest as they become increasingly risk adverse and develop 'analysis paralysis' (definition: over-thinking the situation to such an extent that a decision is never actioned, in effect paralyzing the outcome).

To answer this question- no one has a crystal ball, so instead of trying to "time the market", you should look at "the time of the market".

The Property Clock.

The property markets work in cycles much like the cyclical nature of an analogue clock (keep in mind that there are many property markets, all at different stages of their cycles).
History tells us a property market's cycle lasts for 10 years. During this time, the market's cycle will decline, then rise, and begin the cycle again.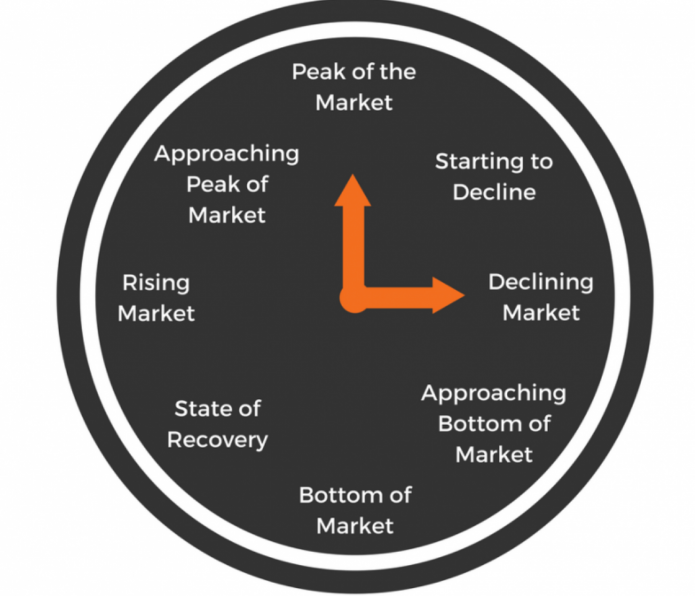 To explain how the property cycle clock works, at 2 o'clock the market is experiencing a "slide" phase where prices are declining as the market is cooling. This often follows a Boom (12 o'clock) where prices in the market have reached a peak and then continue along the cycle. A good example is the current Sydney market.

Often, when property owners see the market starting to cool they want to off load their properties before it is too late and they miss out on the 12 o clock boom prices. However, in doing this, they increase the market supply resulting in prices further declining as supply begins to outweigh demand.

When the market reaches 4 o'clock it is considered a falling market. This is where the market is starting to hit the bottom. It can take up to 5 years post boom to reach this part of the cycle. If you understand the property clock and have seen the market work through all stages of the cycle, this will not be worrying at all to you.

When the cycle hits 6 o'clock the market has reached the bottom. This is the best time to buy property. The bottom of the cycle usually lasts around a year before the market starts to incline.

Post 6 o'clock, the market is experiencing recovery which means the market will rise until it approaches its' peak. When buying between 7'oclock to 9 o'clock, investors will be able to realise their profit much faster while the prices are accelerating. To reach 11 o'clock will take approximately 3 years after the bottom of the cycle.

Any time between 6 o'clock and 10 o'clock is an excellent time to be buying property. 
At this time in the market, there will be excellent opportunities to negotiate and achieve discounts from desperate vendors. This is a good time to buy because the market is not yet at its' hottest. This means you can buy and sell in a short time and make excellent returns as long as you purchased at the right price.

Signs of a rising market:
More investors entering the market, you will notice many interstate investors buying in the area which will push prices up even further
Auction clearance rates in excess of 70%
Local investors beginning to return to the market
Between 10 o'clock and 11 o'clock the market is very hot and prices are shooting up quickly. You will notice a bit of a frenzy as new investors and home owners are scrambling to secure a property purchase. Demand is high and supply is low which makes this an excellent time to sell a property and make strong returns, particularly at auction where properties are often sold a lot higher than the buyers' guide price.
This frenzy will last around a year when prices will have hit a peak at 12 o'clock.

Signs of a hot market:

Gentrification of the area, 

newly

 renovated properties are popping up, new café's, investors are flooding into the area.
Time on the market is very short, auction clearance rates high.
Properties consistently sell higher than asking price.
When we hit 12 o'clock, this is referred to as the 'Boom'. This is the worst time to be buying property and the best time to sell. This is the ceiling of the market, there will often be talk of a property "crash" or "bust" from the media, however, this is usually 'hearsay' as investors understand this is part of the normal 10 year property cycle.


Why will 2018 be the best year to invest in property?
Now that you understand the property clock, you will realise that some property markets like Sydney are currently in the down cycle, somewhere between 1 o'clock and 2 o'clock. Due to Sydney's recent boom many buyers are looking to other areas to invest and live. In particular the North coast, Hunter region, and Sydney's Western suburbs offer both affordable properties and excellent lifestyle opportunities. These areas have also seen recent gentrification with new café's, restaurants, and shopping centres following the high number of owner occupiers moving into the area.
In these areas, we can see prices have not yet reached 11 o'clock on the property clock so this indicates they are still excellent areas to invest.

The most important thing to understand is that although the Sydney market is cooling, we are still predicting some strong growth in other areas, particularly if you buy in the right places and invest wisely. Although there are many property markets, they do impact each other and have a ripple effect on the surrounding property markets which is why when Sydney booms, we expect neighbouring markets to follow through the same stages. For an expert tip, it's worth keeping your eye on all regional areas across the country and look out for strong growth indicators. 
Why 2018?
2018 will be an excellent year to invest, so long as you buy the right property.
The "right" property is a property that is always going to be in demand alongside capital growth prospects. When searching for property, look only to investment grade properties and understand your exit strategy. Having an exit strategy and a clear idea of when you want to 

off load

 the property from your portfolio will greatly assist with finding an appropriate investment grade property.
What are investment grade properties? 
Investment grade properties are the ones that will appeal to 

owner occupiers

, this is because ultimately you will either want to rent your property or sell your property.
To find this type of property look at a property's convenience, security, views, exclusivity, facilities, prestige, quality, the 

performance

 of local schools, and access to transport.
The superior investment grade properties will also have room to add value and create equity without having to wait for the capital growth of the market (i.e. properties that require cosmetic renovations, ability to add a granny flat, ability to strata title, or subdivision).
In summary, when is the best time to buy property?
The answer will always be now, so long as you understand how to read the markets (i.e. what stage of the property clock the particular market is in) and search for the best investment grade properties (those properties that appeal to owner occupiers and have the ability to add further value)

.